Double Long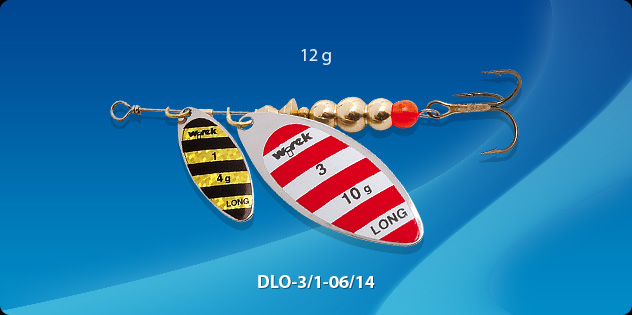 size rozmiar
1/0


31,8mm/25,3mm

2/0


41,3mm/25,3mm

3/1


51mm/31,8mm

4/1


59,3mm/31,8mm

weight (g) waga (g)
5.5
8
12
16
Models of Long spinners with double blades have very good reputation among spinfishermen. The biggest size turns out an extra effective in case of huge pike which very often don't react when small baits are in use. Rotating blades can be in same color or can differ, depending on version.
Obrotówki Long występują w wielu wariantach. Oprócz modeli z klasycznymi korpusami bardzo dobrą opinią wśród wędkarzy cieszą się błystki z dwiema paletkami – Double Long. Ze względu na dużą wielkość, największe rozmiary tych przynęt są szczególnie skuteczne podczas połowu dużych szczupaków, które często nie reagują na mniejsze przynęty. Kolory paletek mogą być jednakowe lub różne, w kolorystyce Long.
Available Colors
Red means fluo foil.
Dostępne Kolory
Czerwony oznacza folię fluo.