Super Long + W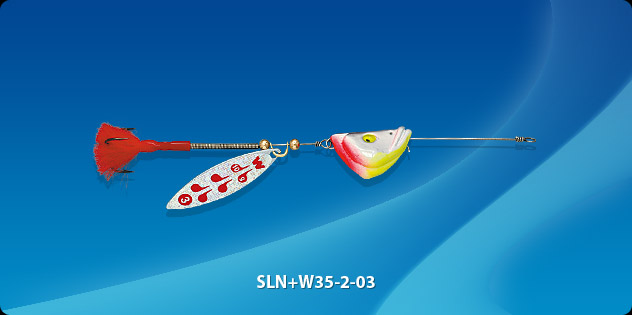 | | | | | | | | | |
| --- | --- | --- | --- | --- | --- | --- | --- | --- |
| Head weight (g) Waga główki (g) | 5 | 10 | 15 | 20 | 25 | 30 | 35 | 40 |
Sinker heads allowing for perfect balance of spinner, depending on fishing depth and water conditions (stillwater, river). Designed for use with each size of spinner. The heaviest heads are exceptionaly useful in fall of a year, when in deeper water a big pike occupies position close to bottom.
Główki dociążające pozwalają dostosować błystkę do pracy na odpowiedniej głębokości. Dostosowane są do modeli wszystkich wielkości, od 0 do 5. Najcięższe główki są najbardziej przydatne jesienią podczas łowienia największych szczupaków, które przebywają wówczas w głębokich partiach wód.
Blades
Blades' colors and sizes available as for Super Long spinner.
Skrzydełka
Kolory i rozmiary skrzydełek dostępne jak dla obrotówki Super Long.