Lusk & Fish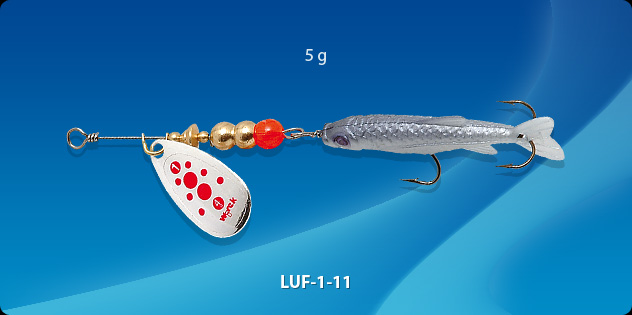 | | | | | |
| --- | --- | --- | --- | --- |
| size rozmiar | 1 | 2 | 3 | 4 |
| weight (g) waga (g) | 5 | 7 | 11 | 16.5 |
Lusk & Fish – excellent combination of Lusk spinner and soft plastic shad. Ideal hookset thanks to equipping in super sharp single and triple hook.
Lusk & Fish to połączenie zwyk łego Luska z gumową imitacją rybki. Uzbrojenie w hak i kotwicę gwarantuje pewne zacięcie każdego brania i bezpieczny hol.
Available Colors
Red means fluo foil.
Dostępne Kolory
Czerwony oznacza folię fluo.