Double Round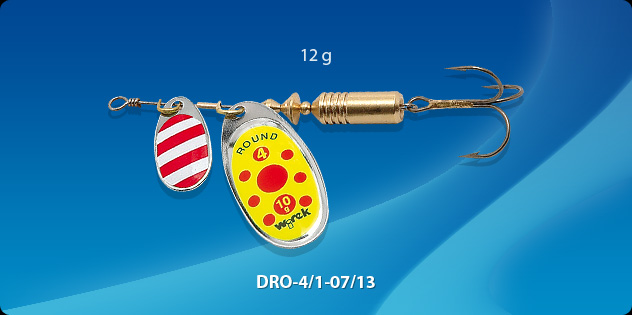 size rozmiar
1/0


23,6mm/19mm

2/0


27,9mm/19mm

3/1


33,6mm/23,6mm

4/1


40,6mm/23,6mm

weight (g) waga (g)
3.5
5.5
9
12
Round models of Wirek spinners, like others spinners of that manufacturer, are proposed in many various versions. Beside classics, more sophisticated constructions achieved high popularity.
Double Round – two-blade spinner, with different size blades. Blades colors can be the same or different.
Obrotówki Round, podobnie jak inne błystki Wirek występują w wielu wariantach. Oprócz klasycznych modeli dużą popularnością cieszą ich rozbudowane odmiany.
Double Round – błystka z dwiema paletkami typu Round różnej wielkości. Kolory paletek mogą być jednakowe lub różne, w kolorystyce takiej samej jak Round.
Available Colors
Red means fluo foil.
Dostępne Kolory
Czerwony oznacza folię fluo.